Some of Keble's finest achievements come from its great sports teams. At Oxford, you can play sport at the university level or the college level. While the uni level tends to be more serious, getting involved in college sport is a great way to meet new people, stay active, and fuel your competitive edge- all teams also have a great social scene!
The captains of Badminton, Cricket, Croquet, Dancesport, Football, Hockey, Lacrosse, Netball, Rowing, Rugby, Skiing, Table Football, Tennis, and Yoga have represented their club here – take a look through the captain's greetings and be sure to check out all the stands at the Fresher's fair!
A few words to keep in mind:
Blues– University-level sports teams
Cuppers– intercollegiate tournament
League– normal matches played throughout the year
---
Badminton
Hi, we're Adam and Oli – the captains for Keble badminton this year. Keble College Badminton is a friendly club open to all Keblites at any level of experience; it can be as relaxed or as competitive as you like. The club caters to all standards of badminton and everyone is welcome and we have players from all subjects and years at Keble including JCR and MCR.
We have men's and mixed teams in the first division of the University badminton leagues in which we play other colleges and we also take part in cuppers, so there are many opportunities for more experienced players to compete for Keble.  Last year we won the mixed league and competed well in the men's league.
The club runs hourly sessions once a week (at the weekend) and we provide shuttles and, on request, racquets, for the sessions.  As we said previously: everyone is welcome.
For more details on location and timings of the sessions for this year look out for us at the Keble Freshers fair or do feel free to contact us at any time, especially if you would like to register an interest in playing competitive badminton for Keble so we can add you to the mailing list and facebook group in advance.
If you have any questions feel free to contact us at adam.stevens@keble.ox.ac.uk and oliver.browne@keble.ox.ac.uk
---
Cricket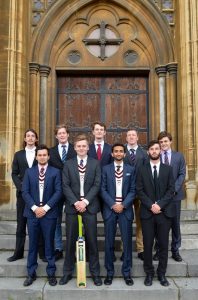 Hi, I'm George, captain of Keble Cricket for this year.
Keble has had some strong teams in the past and has won Division 1 twice in the past 4 years. We compete in both a 40/40 league and T20 cuppers tournament and having had a slightly disappointing season last year, we'll be keen to get back to winning ways this season!
As a club we represent a wide range of abilities and so even if you haven't played before and are interested in picking it up you'll be welcome. We play our games in the Trinity term but will try to get some training in before the season starts. I look forward to seeing you down at the nets!
If you've got any questions feel free to get in touch: george.rix@keble.ox.ac.uk
---
Football – Men's
Hi, we are Adam, captain of KCFC for 2017/18, and Maxwell the Vice Captain.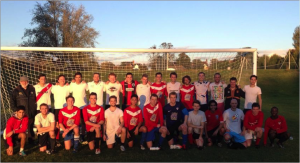 The football team is a massive part of life at Keble. Although last year saw relegation from the Premier division, we managed to form a strong teamspirit and keenness to play, and we look forward to another enjoyable, and hopefully successful, season this coming year. We hope to compete not only for the division title, but also for the intercollegiate 'cuppers' competition- the oldest football tournament in the world! In addition to weekly training sessions, we aim to put out two squads every week, and we are always happy to welcome new players . There will be
trials held in uni parks at some point during freshers week (more info will be made available) and we would love to see you there!
Check out OUAFC for leagues and fixtures, shout at us on Twitter or send us an email at adam.bradbury@keble.ox.ac.uk  or maxwell.jones@keble.ox.ac.uk.
---
Football – Women's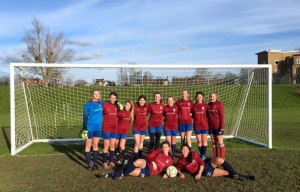 Hi, I'm Viola, co-captain of the Keble/Hertford (also known at Hertble) women's football team! We play casual matches against other college teams in the league as well as competing in the Cupper's tournament (also against other colleges), of which Hertble are the reigning champions! So whether you're the next Messi looking contribute to Hertble's legacy, or a beginner who wants to get fit/say they play sport, this is the team for you! Please email me at viola.lough@keble.ox.ac.uk if you have any questions, and I'll see you on the pitch soon!
---
Hockey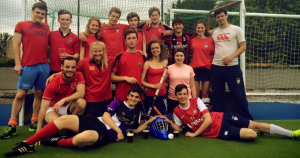 Hi there, we're Angus and Savi and we're your Keble hockey captains! We have both a mens' (which is actually a mixed team) and womens' team. We usually play one match per week so it's not too much of a commitment, and players of all abilitiesare welcome. It really doesn't matter whether you're a beginner or an expert! Also, hockey is really fun and sociable. If you're interested in playing hockey this year make sure to sign up at the Keble freshers' fair, and feel free to drop either of us an email if you have any questions at angus.hatrick@keble.ox.ac.uk or savina.chahal@keble.ox.ac.uk
---
Netball
Hello! I'm Hannah, a second year theologian and captain of Keble netball this year. Keble has a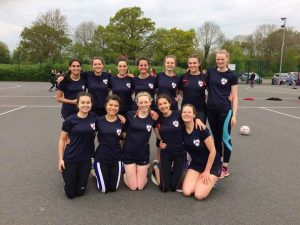 really strong sports scene and netball happily follows suit with last year seeing us win division 1 of the intercollegiate league and reaching the semi finals of cuppers. Though we field a competitive team, all years and abilities are welcome to come along and will find a really warm, lovely team to become a part of. Doesn't matter how much you've played netball before, you are definitely welcome to join us! We tend to have one match against another college a week and try to fit in a training session every week too. We sometimes have friendlies on top of this. As we're in division 1, you aren't able to play league matches if you identify as male, but are welcome to join us in friendlies and the mixed netball cuppers in Trinity term! Please get in touch if you want to join us or if you have any questions: hannah.stone@keble.ox.ac.uk
---
Rowing – Men's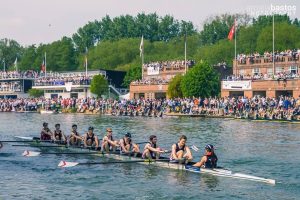 Hi, I'm Milos Savkic, Keble men's rowing captain.
Have you ever wondered whose names are chalked on Keble walls or what all these chats about blades (Rowing Trophy), squaring, timing and erging are about?
Undoubtedly, rowing is the most popular sport in Oxford with two huge intercollegiate competitions in Hilary and Trinity Term (Torpids and Summer Eights respectively). Keble Boat Club is one of the best equipped boat club in Oxford and it's one of the most inclusive Keble sports club having a large number of members from JCR and MCR.
This upcoming year is going to be one of the most important years for Keble Boat Club and Keble sports in general, our first Men's boat has reached the top of all boats (3rd position) for Summer eights and aims to win and become Head of the River (Last time this was achieved was back in 1977).
You'll have the opportunity to join in a big year for Keble, whether you are an experienced rower or you've never been on the water before, whether you just want to get a little bit of exercise and gain fitness or you aiming for blades and glory in competitive rowing: everyone is very welcome!
An amazing team of coaches will help you to improve sooner than you think and the spirit and social life of our crew will make this an unforgettable time for you!
Contact me for any questions.
Milos  (milos.savkic@keble.ox.ac.uk)
---
Rowing – Women's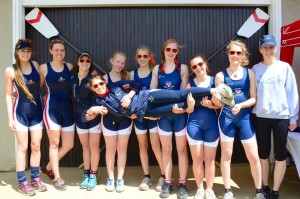 Hi, I'm Emma, the Keble Women's Rowing Captain.
Keble has one of the best college boat clubs in Oxford, with some unbeatable equipment and coaching. Last year was Keble women's most successful ever, including representing Oxford colleges against Cambridge at the Henley Boat Races, so it's a fantastic time to get in on the action! Rowing is not only so much fun, but will keep you super fit and is a great counterpart to work. You'll be joining a tight-knit group of friends from all years and the socials are not one to miss. Finally, I can't emphasise enough that you don't have to be sporty or really fit to give it a go – novices are key to the squad and often end up in the first boat by the end of the year!
See you in October! Emma x (emma.carter@keble.ox.ac.uk)
---
Rowing – Coxes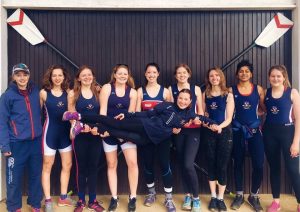 Hi everyone! I'm Verity, the Captain of Coxes at Keble this year. It's my role to coordinate and mentor all of Keble's coxes. Coxing is a unique position within rowing, with lots of room for rapid improvement and specialization. It involves steering the boat, calling commands and motivating the crew.
Joining the Keble College Boat Club (KCBC) means being part of rowing at Oxford, participating in regattas and crew-dates, training with world-class coaches, and, my favourite aspect, making close friends from across all year groups.
Importantly, coxing at Keble is inclusive. Size does NOT matter in college rowing and coxes can be of any height or weight. In fact, some of the best college coxes are far from its stereotypical image – experience and enthusiasm are much more important!
If you'd like to get involved, join a trial session or just find out more, please Facebook message me or email me at verity.bligh@keble.ox.ac.uk
---
Rugby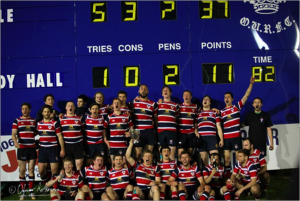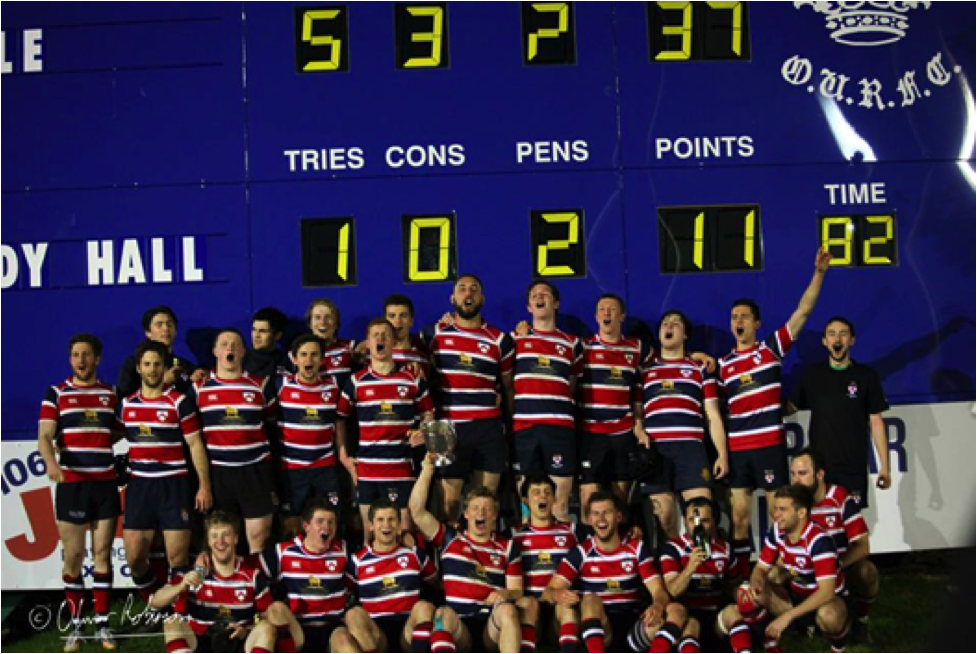 KCRFC is one of the most successful college rugby clubs in Oxford and is one of only two colleges that continue to field both a 1st and 2nd XV in the season. Furthermore, we were the only college to field its own women's team in the inaugural Oxford University Women's Rugby Cuppers event, whilst other colleges grouped together.
We aim to provide the opportunity to anyone interested in playing rugby, from players who have represented their country to complete novices. KCRFC training sessions will be advertised during term time and we will be running mixed-touch sessions over the course of the year. The Men's 1st XV play matches in the league, Cuppers (a knockout competition that Keble won in 2015 and reached the semi-finals of in 2016) and 7s Cuppers. The Men's 2nd XV and Women's 1st XV play in Cuppers.
Anyone interested in getting involved in rugby should contact thomas.foster@keble.ox.ac.uk (men's) or leanne.robinson@keble.ox.ac.uk (women's).
---
Squash
Keble Squash Club is a friendly environment to learn, improve and compete as a Keble squash player across the university. Keble has one court located on St Cross Road opposite the English Faculty. League matches are played weekly and there is a possibility to have an external coach depending on interest. A yearly membership (~£15) is required to use the court which is recommended. Please get in touch for any queries and if you want to be involved with the team/ training. ( Justin.hayden@keble.ox.ac.uk)
---
Tennis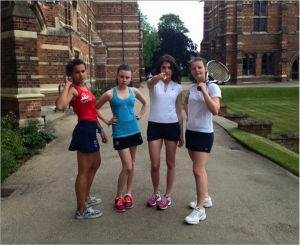 Hi, we're Maxwell, Nick and Charlotte, Keble men's and women's tennis captains for this year. Keble has two hard courts and one grass court at its sports ground, which are used both by the college teams and by anyone who fancies a hit with their friend. We play inter-collegiate tennis in Trinity (summer) term, including both league matches and cuppers. With a big intake of freshers tennis players, we're hoping to push for promotion in the leagues and a good run in the cuppers knock-out tournament. We also have informal coaching sessions throughout Trinity term provided by an external coach. They are a great way to keep active throughout the term, and can be as serious or relaxed as you like. I'd definitely encourage anyone who likes tennis, whatever ability, to join whether it's to play for the college or just recreationally. If you're interested in getting involved or just want to find out more, please contact any of us at maxwell.jones@keble.ox.ac.uk or nicholas.jelicic@keble.ox.ac.uk or charlotte.rougier@keble.ox.ac.uk
---
Posts below are still being updated and therefore may have some incorrect information.
---
Croquet
Hello all! We are Eddie and Harry, your Keble Croquet Captains.
From the vast majority who have never picked up a mallet in their lives to veterans of the sport dressed in questionable chinos, croquet really does offer itself to everyone! Be it for a competitive game or for a sunny afternoon of procrastination with Pimm's in hand, what better place is there to try it than the hallowed lawns of Keble College.
Croquet Cuppers 2016 was the single biggest sporting event in Oxford University last year with over 2000 participants – almost 10% of the University – and a strong Keble representation. Keble also put on its own College Cuppers which helped raise money for our JCR charity.
Coming to a quad near you next Trinity, we look forward to seeing you all!
---
Dancesport
Hello! We are Catherine and Charlie, the Keble Dancesport captains for 2016-17.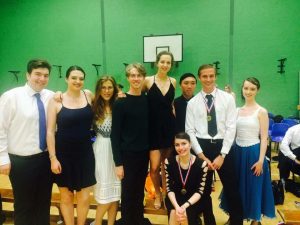 The Keble Dancesport society runs weekly lessons in ballroom and Latin dancing, taught by the excellent Bruce, one of the dance teachers affiliated with the main university Dancesport society (OUDC). The lessons are great fun and taught in a friendly, informal way, with no experience required or assumed. Keble Dancesport is a fantastic way to meet new people, to exercise and to learn the skill of ballroom and Latin dancing – even if you've never danced before or think you have two left feet! The cost is usually £3 for a two-hour lesson, so they are also excellent value!
Keble also enters a team into the annual Dancesport Cuppers competition, which takes place in Trinity term. We have a great track record of Cuppers success, with more wins than any other college in the history of the competition.
If you're interested in finding out more or have any questions, please feel free to contact us at charles.oakley@keble.ox.ac.uk or catherine.bucknell@keble.ox.ac.uk – we'd love to hear from you, and hope to see lots of you soon! Keep dancing!
---
Darts
Hi, I'm Léon captain of Keble Darts Club (the mighty KCDC) for 2017-18.
We're a super friendly bunch of people, and whether you know your breakfast from your goldilocks or have never thrown a dart, would encourage you to get in touch if you have the slightest inclination of playing!
As a club we had something of a renaissance last year increasing our membership and managing to stay undefeated for all of 2017. We're hoping to build on this momentum next year but will continue to have a super laidback atmosphere.
We hope to enter at least one team of four in the league next year but would love to enter more so there will be plenty of opportunities to play matches against other colleges in the league and also in cuppers (Trinity term).
Feel free to email me (leon.vanriesen-haupt@keble.ox.ac.uk) if you have any questions or want to know when we'll next be in Keble Bar for a throw!
---
 Lacrosse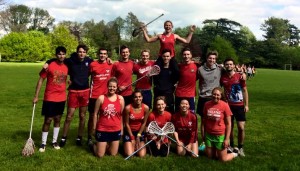 Hi I'm Catherine (Cat) and this year's Keble Lacrosse Captain.
Mixed lacrosse at Keble is a fun sport to get involved in! We have matches against other colleges every Saturday morning during Michaelmas term, and in Trinity we will be training for Cuppers that's held midway through the term.
It doesn't matter if you haven't picked up your stick since school, or you're a total new-comer to the game – everyone is welcome! It's also a great way to keep fit, meet other people at Keble, and can complement other University sports. I will be holding training sessions to teach the basics (we have spare sticks) and hopefully some social activities to get the new team together.
Last year we had a really successful season with a mix of University players and first-time players on the team. Feel free to get in contact with me if you're interested – my email is catherine.haigh@keble.ox.ac.uk!
---
Skiing/Snowboarding
I'm Tom Harker, Keble ski captain. Keble only takes part in skiing cuppers on the varsity ski trip, but if you're interested in racing or freestyle and want to do this more regularly get in touch and I'll be able to let you know about all of that. If you do want to train regularly with the uni, instead of Keble, it's good fun, with transport to and from a snow centre funded by the club, and any abilities are welcome! I do freestyle but can put you in contact with the racers if you're that way inclined. We're all happy to help you learn new things and improve. Feel free to talk if you have any questions at Thomas.harker@keble.ox.ac.uk.
---

Table Football
Hi, I'm Paolo, the Keble Table Football captain. If you've always thought you were pretty damn good at it or if you've never played, sign up for Table Football-it's completely relaxed and you'll also get to take part in the Uni wide league if you create a team of four. Keble's recently got to the final and there's no reason we can't do better this year!
Please get in contact at paolo.spingardi@keble.ox.ac.uk
---
Yoga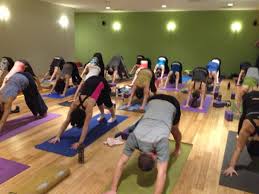 Hi! I'm Maria and I'll be running Keble Yoga with Joel this year. At Keble, we practice Ashtanga yoga which is an amazing method of relaxation as well as a fun workout- something especially great to keep in mind for the inevitable term stress! Our club is open to all levels, whether you have been practicing yoga for some time or whether you want to try something new. We have a wonderful teacher, Milena, who caters to everyone's abilities, so you don't have to worry about looking silly! Yoga is very fulfilling and a great way to meet people.
Keble Yoga runs every Tuesday from 8-9.30pm; it usually takes place in the Arco building in Keble and you will be kept posted on any changes. There is a small fee per session and this has ranged from £2.50 – £5. So, whether you have a passion for yoga or simply want to de-stress, come and join us at Keble Yoga! If you have any questions, feel free to email me at marija.strojakovskaja@keble.ox.ac.uk or Joel at joel.anderson@keble.ox.ac.uk . Hope to see you there!