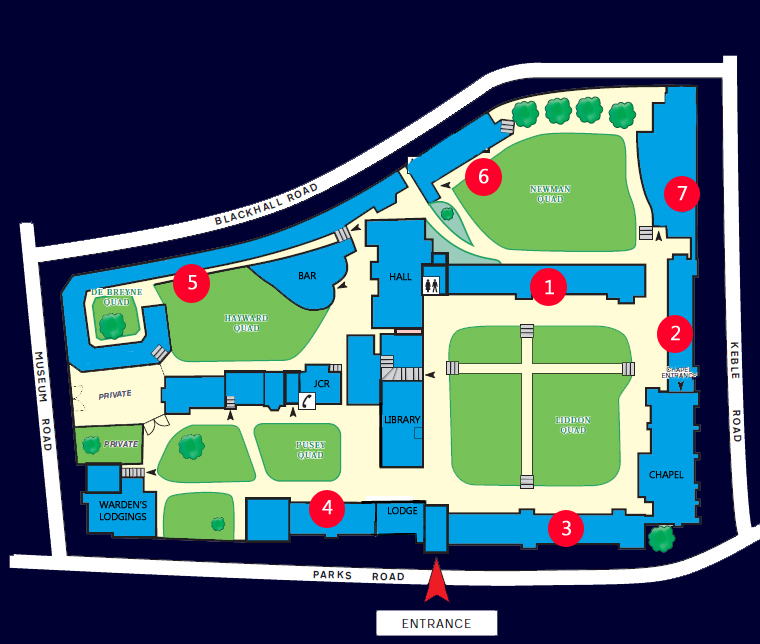 Ask anyone in Oxford and they'll probably tell you that Keble offers some of the best college accommodation. All first and second years live in Keble accommodation, and third years have a choice to live in or out- many choose to stay at Keble their third year.
---
1. Liddon West
Occupants: Mostly second years
Bathroom: En-suite
Room Numbers: Made up of four digits, the first tells the floor and the second number is always 5. (ex: 1510 is ground floor Liddon West, 3504 is second floor Liddon West, etc.)
Why Liddon West: Every room has very recently been refurbished, so they are some of the nicest rooms in college with updated facilities while still keeping its old Victorian charm. On either side, you can look out over Liddon Quad, which offer the most aesthetically pleasing view, or Newman Quad, so you can always see who's in the Cafe. They are a decent size with light blue walls and navy carpets, and also have a separate dressing room – so you get a fair amount of storage space. It also comes with its own under-the-table fridge. However, these rooms can work out to be some of the most expensive in Keble. If you're lucky enough to get a Liddon room you're guaranteed to fall in love with the place!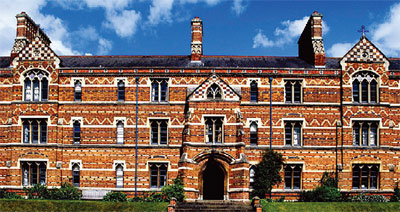 ---
2. Chapel Side
Occupants: Most second years, some first years
Bathroom: Mostly en-suite, a few are shared between two people
Room Numbers: Chapel Side room numbers are four digits; the first digit tells the floor and the second digit is always 7.
Why Liddon Chapel Side: Overlooking Liddon Quad, these possibly some of the nicest rooms in college as they were newly refurbished last year. There is a mix of rooms with some en suites and some shared bathrooms. All rooms also come with its own fridge. The quad-facing rooms offer great views of hall and the library. But don't worry if you get a street facing room; they look out onto Keble Road, which is considerably quieter than bustling Parks Road. The rooms are quite spacious and come with fridges as well.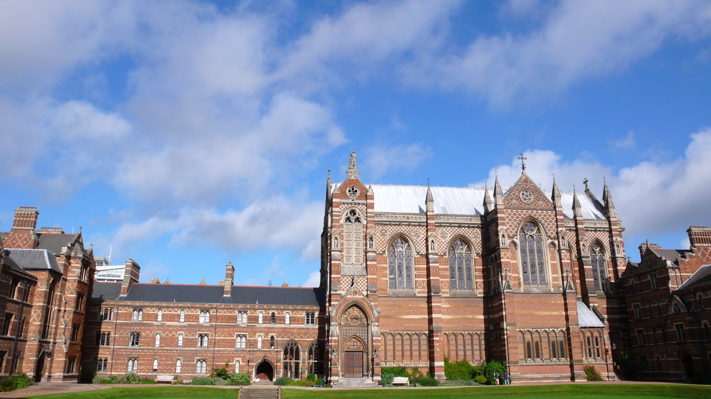 ---
3. Liddon Lodge Side
Occupants: Mostly second years
Bathroom: Mostly en-suite, a few are shared between 2-3 people
Room Numbers: Four numbers, the first is the floor and the second number is an 8 or a 9.
Why Liddon Lodge Side:  The rooms are the most recently to have been refurbished and are almost identical to Liddon West, but with different colour schemes. En-suite, fridge included, and sporting a dressing room, so most have a decent amount of storage space too. The quad-facing rooms have the best views in college, as they get a lot of sunlight and overlook Liddon Quad. However, if you live road-side, don't worry; most people don't hear much noise from the streets.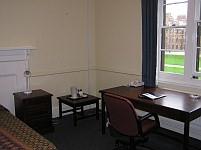 ---
4. Pusey
Occupants: Mostly second years, some first years
Bathroom: Mostly en-suite, some are shared between 2-3 people
Room Numbers: Again, four numbers, the first denoting the floor. If 0 is the second number then the room is Pusey Lodge side. If it is a 2 then it's Pusey West side, also known as the clock-tower building.
Why Pusey:  Some say the rooms are the best in college on the basis that, being older, they possess a little more character than your average Liddon 'box'. The rooms vary in size more than anywhere else in college, although none of them are small. Most of the rooms are en-suite, and if you're lucky the bathroom may be enormous! While Pusey rooms do not come with a fridge, some corridors have a shared kitchenette with a large fridge and microwaves. This year, most of the Pusey Lodge side rooms have been refurbished, and are looking great so will inevitably only increase in popularity.

---
5. Hayward/De Breyne
Occupants: First years, and a few graduate students
Bathroom: All H/DB bathrooms are shared between two people
Room Numbers: DB and H signify that it's a Hayward or De Breyne room, the first number is the number of the staircase and the rest is the room number. So H304 is staircase 3 in Hayward, and then room 4, and DB803 is De Breyne staircase 8, room 3.
Why Hayward/Debreyne: They may be known as the fish bowl rooms, but if you spend your first year in Hayward/DeBreyne, where the majority of occupants are Freshers, it will certainly be memorable. Within crawling distance of the bar, with a view of the JCR and the Clock Tower, and with a quad that's perfect for sunbathing and Pimm's in the summer, Hayward has definite potential to charm your average fresher. Every room is equipped with a small (read tiny) vanity sink, a fridge and a tiled area perfect for putting a microwave/preparing food. Most fridges do come with a freezer section inside, which is cold enough for everything but ice cream. Hayward/De Breyne rooms are arranged around staircases, with two rooms and a bathroom on each floor. The bathrooms are modern and frequently cleaned, and provided your neighbour isn't too vain, sharing with one other rarely poses any problems. It's also normally a better idea to do wash up your cutlery in these sinks, as they're bigger than the ones in your rooms. The other main benefit of Hayward rooms are the gigantic brightly coloured sofas, which easily accommodate six (or eight at a squash). They also convert nicely into beds for whenever you have a guest come to stay. You also get lots of light because of the glass wall, but make sure to close the blinds for privacy.
---
6. Sloane Robinson
Occupants: First years
Bathrooms: En-suite
Room Numbers: SR signifies that the room is located in Sloane Rob.
Why Slo Ro: Sloane Robinson is the newest building in Keble and so has all the mod cons, including a lift! Whilst your friends-to-be are heaving their belongings up countless flights of stairs, you can simply load up the lift and let it do the walking for you. All the rooms are en-suite and quite spacious with a far more modern feel than those in the older parts of college. Storage facilities are far from brilliant, so you might want to think about bringing some boxes to go under your bed as makeshift drawers. Again, no fridge or kitchen, but Sloane Rob inhabitants are envied by all for their proximity to Keble Café, where you can go for a late breakfast or early lunch.

---
7. ARCO
No first or second years live in ARCO – this is reserved solely for third years who live in college. However, if you're thinking of living in your third year, this is where you will be. The rooms are identical to those in Sloane Robinson, and close enough to the café to lounge around there all day, as many third years do.