Keble offers many societies to its students; don't worry if you're not into sports, Keble's also great at the arts and academia! The college is home to the student-run O'Reilly Theatre, Keble College Music Society (KCMS), Harris Law Society, and Keble's chapter Christian Union. Take a look at these descriptions and get involved!
---
O'Reilly
The Martin Esslin Society (MES) work to run and maintain Keble's very own theatre the O'Reilly. Known as one of the best student-run theatres in Oxford, the society programmes the productions and works with college to improve the theatre in general. If you want to learn more or get involved, you can check out our website or contact heloise.lowenthal@keble.ox.ac.uk!
---
Keble College Music Society
Hi there! I'm Patrick and I'm president of Keble College Music Society this year. Our society includes a String Orchestra and a Big Band, as well as the Henry Ley Singers and the Chapel Choir. We are also introducing a Society for Chamber Players and a Gospel Choir, but we are open to any other ideas for new ensembles and events.
In the past, the society has organised recitals for individuals and ensembles, Jazz nights filled with wine and cheese, informal Christmas Carol Concerts, an Early Music Festival and much more. We are currently planning a Fresher's Recital, an open mic night and auditions for a Music Scholarhsip, details of which are to come.
KCMS is open to everyone; no matter how experienced you are as a musician, you are always welcome to join one of our ensembles or even just come along to some of our events and listen. The Gospel Choir is even open to people who have never sung or read music before but are willing to have a go! There will be musical activities going on throughout the year and we are sure that there will be something for people of all tastes and abilities.
Find out more at http://www.keblemusic.co.uk, or drop me an email at patrick.hall@keble.ox.ac.uk. Please like our Facebook page too in order to keep up to date with everything!
---
Harris Law Society
The Harris Society is Keble College's Law Society aimed to further interest in, and understanding of, the legal profession. Among other things, the Society liaises with solicitors' firms and barristers chambers to organise lectures and other networking events (usually dinners!) with a view to providing insight into the legal world beyond university. Recent notable guests have been Judge Brower as well as UK Supreme Court judge the Lord Sumption. The society also organises college moots for those interested in advocacy; particularly helpful for those considering the Bar as a career option. The society aims to support the study of law in the college at all levels, undergraduate or graduate, as best it can. However, the society is not just for the benefit of law students: it draws together both Law and non-Law students, as all who share an interest in the law or practising law are welcome.
Get in touch with Penny if you'd like to know more
---
Christian Union
The Keble Christian Union (CU) is a community that meets every week to worship, pray and explore God's word together. We treasure times of fellowship and encouraging each other in faith throughout the term and beyond, and believe that it is important to delve into the biggest issues in life.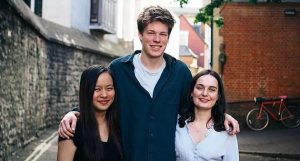 So whether you are looking to get more involved or are simply curious, we would love to hear from you on Facebook, in person, or by email at jessica.kelly@keble.ox.ac.uk, benjamin.barber@keble.ox.ac.uk and jo.ong@keble.ox.ac.uk (Eunice is also an international student, so if you have any questions specifically related to this, she would love to hear from you!).