The use of the quads for croquet is currently suspended.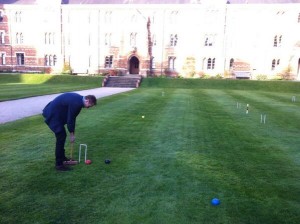 The quads took a bit of a battering this winter and, because of the nice weather this week and subsequent use, they are in need of some intense TLC.
Pusey Quad and Hayward Quad are still open to use as per normal (Pusey: No walking across, no playing on, but sitting or lying on it is permitted. Hayward: Enjoy, but no ball sports) but please refrain from playing croquet on any of them.
If, however, you have a cuppers match or are a cuppers captain hoping to do some training please contact Adrian Roche (Head Gardner: adrian.roche@keble.ox.ac.uk; 07817 863841) to seek his permission to play on the quads.
Hopefully this will just be a short term fix while the grass has time to get back into fighting shape.
At least the weather is not taunting us about it!